Corporate financial reporting is mandated by law and it's also helpful in various other ways for boards of directors. Financial reports demonstrate to board directors that the company is in legal compliance with state and federal laws, which includes following Generally Accepted Accounting Principles (GAAP).
In addition, seeing actual figures on a regular basis prevents cash flow problems and assures board directors that the numbers all add up. Monthly financial reports provide boards with the financial standing of the business at a specific point in time, as well as providing an overall picture of how the company has performed over time.
While financial reports educate and inform board directors, they're also important for banks and investors to gain assurance that the company is financially sound currently and for the future. Financial reports are also helpful for regulators to ensure that companies are in compliance.
Understanding the Difference Between Financial Reports and Management Reports
Boards of directors receive various types of reports that give them the information they need to effectively oversee the company and its operations. Management reports are useful tools for board directors. They serve a different purpose than financial reporting.
Management reports are solely for internal use. While management reports are helpful for managers and boards, they're not mandatory and they don't have to follow GAAP guidelines. Management reports focus on various segments of the business. They provide important data that helps boards and senior managers make good decisions because they provide a forward-looking view of the company.
Financial reporting is compliance-oriented and is used for external purposes. Most companies produce weekly, monthly and quarterly financial reports, which include information such as profit and loss statements, a balance sheet, accounts payable, accounts receivable and a statement of cash flows.
Financial reports give boards insight about the financial aspect of operations. Unlike management reports, financial reports look backward at how the company has already performed. Together, management reports and financial reports give boards and managers a comprehensive view of how the company is doing and what they can expect in the future.
Monthly Financial Reporting Template
Monthly financial reports can take on various formats depending on the information the board wants. Accountants may present monthly reports that include detailed information on several pages, or they may opt to condense the most important information onto one page. Some companies find that board directors can more easily comprehend the facts and figures when they include graphs and charts alongside the numerical data. The landscape format works nicely for showing a table of information alongside a graph or chart.
Here's a template that shows the basic components of a monthly financial report: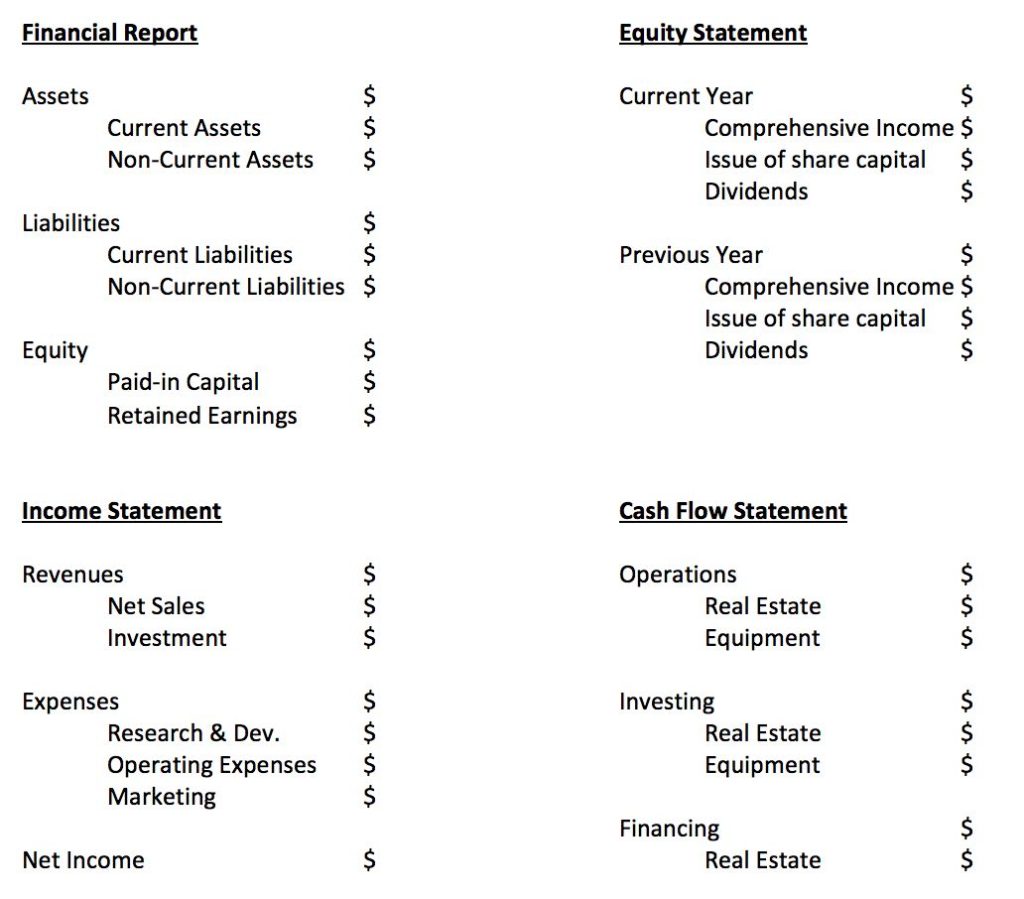 Tips for Designing Monthly Financial Reports
While accountants and auditors are acutely familiar with financial reporting terms and practices, it's important to consider the demographics of the audience that will be reviewing the financial reports. Best practices for board composition encourage boards to have diversity on their boards, which means that many of them may not be familiar with how to read and interpret financial reports. In designing a format for financial reporting, it's generally best to keep reports simple and easy to comprehend.
Notably, board directors will be most interested in where the company's performance changes and why it's happening. Information provided in year-over-year formats, such as a histogram, will help directors to better understand long-term trends.
Take the time to get acquainted with board members and get a sense of their base financial knowledge. For instance, older board directors may not be familiar with Excel spreadsheets or Internet dashboards.
One way to ensure that board directors have a familiarity with financial reports is to build some training into the onboarding process. Allow time during the orientation for new board directors to meet with the CFO or an accounting representative to go over the financial report format and help them understand the critical financial factors.
Represent data in a way that's easy for the eyes to follow and interpret. Use a variety of column charts, graphics and other illustrations to show data changes over time and to highlight comparisons. Add summaries or narratives to explain any outliers or other explanatory information and help readers interpret the data's meaning.
Combined sets of data help readers gain perspective. For example, include cash as a dollar amount and also as a percentage of the total assets. Board directors may also be interested in whether accounts receivable are increasing or decreasing and whether debts may be collected in the future or must be written off.
It's essential for financial reports to reflect data accurately. Leave out details that are unimportant, so readers don't confuse more important data. Some companies provide boards with detailed financial reports on a quarterly and an annual basis while providing a simplified overview on a monthly basis. Be aware that monthly reports won't answer all the questions that board directors may have and be prepared to back up the information in the monthly reports with more firm data.
Diligent Corporation's board portal provides a secure electronic platform for delivering and storing financial reports of all kinds. Board directors can then easily retrieve reports using any convenient electronic device. The platform provides unlimited data storage, which makes it easy for board directors to access financial reports from previous months and years for comparison. Diligent's board portal system is part of Governance Cloud, a suite of software solutions that supports good corporate governance practices. With Diligent's Messenger communications tool, board directors can ask questions about financial reports having the full confidence of secure communications.
The essence of a monthly financial report should include relevant data that is easy to read and to comprehend. A board portal system by Diligent puts financial reports at board directors' fingertips at any time of day or night.
Governance: Simplified
Good governance doesn't have to be complicated. Hear from other leaders who have used technology to optimize their governance practices.